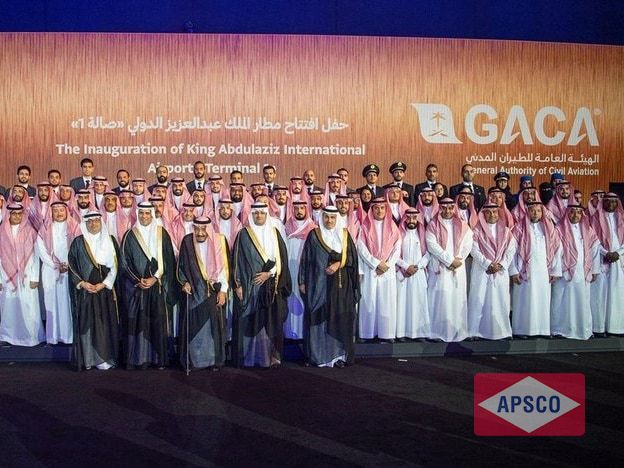 APSCO proudly participates as a bronze sponsor of the new New King Abdulaziz International Airport Inauguration.
The Custodian of the Two Holy Mosques was inaugurated the 24th of September 2019, with APSCO assisting in the project as a proud bronze sponsor. The state of the art 810,000 square meter terminal was overseen by His Highness King Salman bin Abdulaziz Al Saud who inspected the facilities along with Prince Mishal Bin Majed, governor of Jeddah, Minister of Transport and Chairman of GACA Dr. Nabeel Al-Amoudi and GACA President Abdulhadi Al-Mansouri.
Following the tour of the facility and its features, His Highness King Salman bin Abdulaziz Al Saud and his emissaries were shown a video presentation of the facility which highlighted the main features of the airport and the services offered, including 220 counters for airlines, 128 counters for passports, as well as 46 gates, which are connected to 94 movable bridges serving 70 aircraft at the same time in addition to parking for over 21,600 cars.
APSCO's role as a sponsor ensured the smooth completion of the project, helping the aviation industry in Saudi Arabia expand the Kingdom's status. The project itself was achieved thanks to the work of over 26,000 engineers, who developed the airport further to include a three story hotel, 81 prayer areas, 18,000 sq. meters of green areas and conveyer belt systems spanning a total of  34 Km for the handling of passenger luggage. Upon the completion of the project, the airport will be able to be host to 24 domestic destinations, and it is expected to increase its passenger reach to 147,184 while luggage pieces will total 50,746 on 1,158 weekly flights.
The world class airport, located 19 Km north of Jeddah, has risen in prominence as one of the largest airports in the world designed with classic Islamic architecture and facilities that revolve around environment-conscious standards.
With this project undertaken, APSCO continues to play a key role in further developing the Kingdom's aviation sector, helping it soar to new heights.