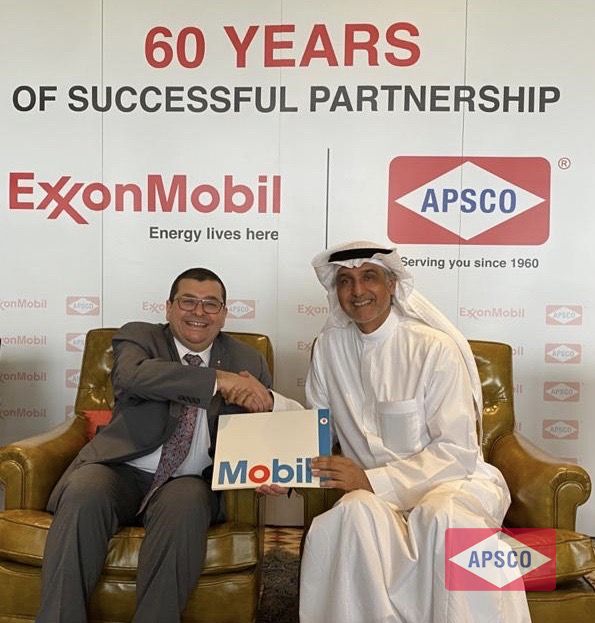 Celebrating the 60th anniversary of the long-standing strategic alliance with ExxonMobil in the Saudi market
Apsco and ExxonMobil renew their successful alliance
Jeddah March 1, 2020: Apsco celebrated 60 years of prestigious alliance with ExxonMobil in a special event at the headquarters of Apsco Jeddah, in the presence of senior officials of both companies.
Mr. Mohamed Ali Reza, CEO and Managing Director of Apsco welcomed Mr. Hesham Elamroussy, Africa and Middle East Lubes Sales Manager.
In a speech on this occasion, Mr. Mohammed Ali Ali Reza welcomed the guests and spoke about the history of this long-standing alliance between Apsco and ExxonMobil, praising the long-standing relationship that began more than 60 years ago, marking the entry of Mobil into the Saudi market to launch a strategic alliance that has been established over time and became more successful with ExxonMobil's ongoing innovations over the past six decades, allowing it to gain a prominent position in the Saudi Arabian petroleum products sector.
He added, "Sixty years later, we see many cars roaming the streets of Saudi Arabia using Mobil oils and products, while many aviation and industry sectors also use these products for their success with exceptional products designed to suit all their businesses."
"Today we are gathered to celebrate our extraordinary and fruitful relationship, which has spanned more than 60 years, an alliance that has emerged from a shared vision and culture, along with a tremendous amount of mutual respect, and the extraordinary results of strengthening and further strengthening our relationship. We are excited and cheerful as we celebrate and renew the alliance with the aim of establishing the relationship and achieving continued prosperity in our enduring relationship."
"Perhaps one of the most important factors contributing to this success is the state's support for this sector, which is the Kingdom's vision for the future vision of 2030, as well as their keenness to develop the Saudi economy to become one of the most important economies in the world today."
"ExxonMobil's continuous support for us has been profound in the process of development and has had a profound impact on the success of this relationship throughout these years. It has always been the best motivator and supporter for us to achieve higher successes and better results"
At the end of the ceremony, commemorative shields were exchanged, reflecting the depth of the relationship between the two parties, taking pictures on the occasion.