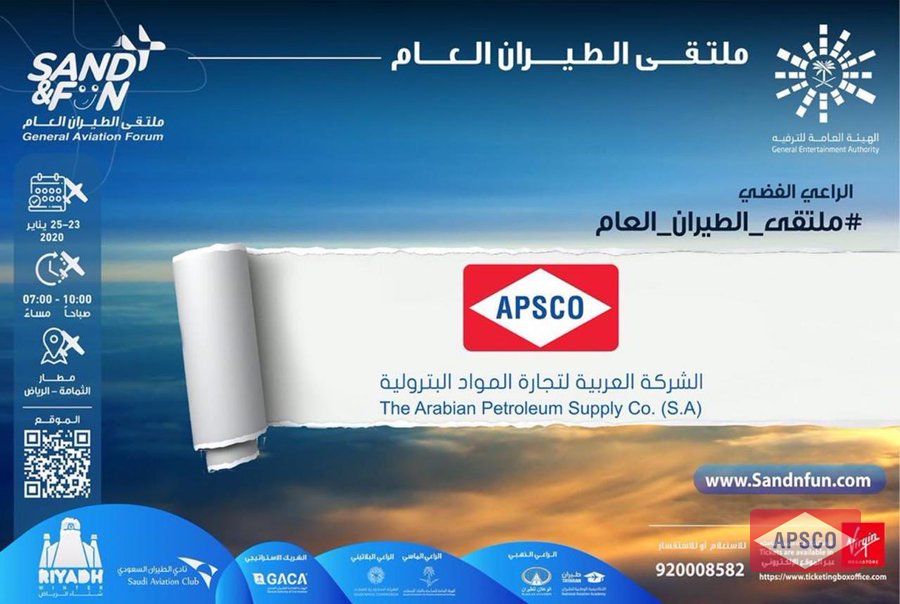 Dedicated to its community, APSCO takes part in General Aviation Forum
APSCO had the proud pleasure of being a silver sponsor of the 5thGeneral Aviation Forum held in Thumamah Airport in Riyadh, under the Patronage of His Royal Highness Prince Faisal Bin Bandar Al Saud, Governor of Riyadh Region, and His Royal Highness Prince Sultan Bin Salman bin Abdulaziz, Chairman of the Saudi Space Authority, Founder and Chairman of Saudi Aviation Club. The event took place from January 23rdto January 25th, 2020 and attracted both avid aircraft enthusiasts and sports practitioners, as well as families and children alike.
The Saudi Hawks aerobatic team, The Saudi Aviation Club Sky Diving team, and the Emirates Alfursan team demonstrated feats of acrobatic precision and entertainment for all who attended and made it an exciting and entertaining spectacle attracting aviation specialists from across the globe. The community event was an entertaining and engaging one which APSCO was happy and proud to be a part of.