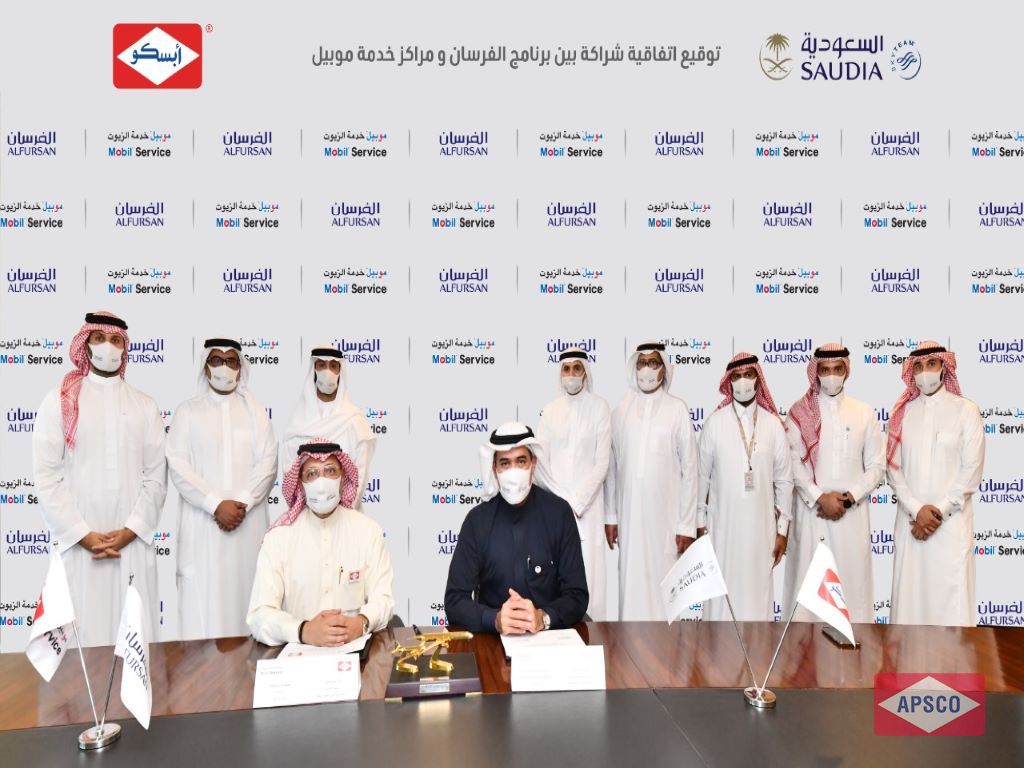 SAUDIA AL-FURSAN AND APSCO CONCLUDE A STRATEGIC PARTNERSHIP AGREEMENT
Jeddah - September 2020: Al-Fursan, the SAUDIA's frequent flyer program, and "APSCO" Arabian petroleum Supply Company, and owner of Mobil Service chain centers, announced having concluded a strategic partnership agreement. The recently kicked off agreement that is expected to come into effect soon, allows the exchange of mile rewards for the two parties' customers. Both Al-Fursan and Mobil Service centers will get double benefits of distinguished rewards and services plus extra miles that will be added to their own tally of miles. The announcement of such a significant agreement comes as continuation of APSCO's ongoing plans to strengthen its relationship with its strategic partners.
The partnership agreement between Al-Fursan and APSCO was signed at SAUDIA headquarters. The ceremony was attended by senior official of Al-Fursan headed by Mr. Issam Akhonbay, Vice President for Marketing and Product Management, and CEO of APSCO Lub's Mr. Khaled bin Salah Al-Tayeb. The two parties reviewed the long lasting relations between them at different areas and considered the agreement as continuation to their endeavors to enhance this relation.
Mr. Altayeb expressed his personal happiness, confirming that APSCO is highly privileged by this strategic agreement. "The marketing and promotional programs shared by all different national sectors will help achieve the desired benefits of member customers. Hence, APSCO confirms its strong commitment to provide high quality services to Al Fursan members, and as part of this partnership, many joint promotional activities will be launched shortly", added Mr. Altayeb.
"This partnership reflects APSCO's persistent efforts to provide its customers with the best services, by helping them benefit from a distinguished rewards program when visiting Mobil Service Centers. Customers will enjoy a unique experience through the latest electronic platforms along with the centers' apps for earning extra miles", stated Mr. Khaled.
Mobil Service Centers cover the Kingdom's major regions, they are strategically located to allow easy access to the services. Furthermore, they provides other new services using the latest modern methods technically to be in line with Exxon Mobil's global standards, which will meet the expectations of the customers and members of Al-Fursan.
Mobil Service Centers were established to meet the growing demands for auto express services as APSCO is on its way to expand this network to reach the largest segments of customers in all the regions of the Kingdom. APSCO is also looking forward to expanding its portfolio of partnerships with other various sectors, in a move aimed at deepening ties with customers and help fulfilling their needs.