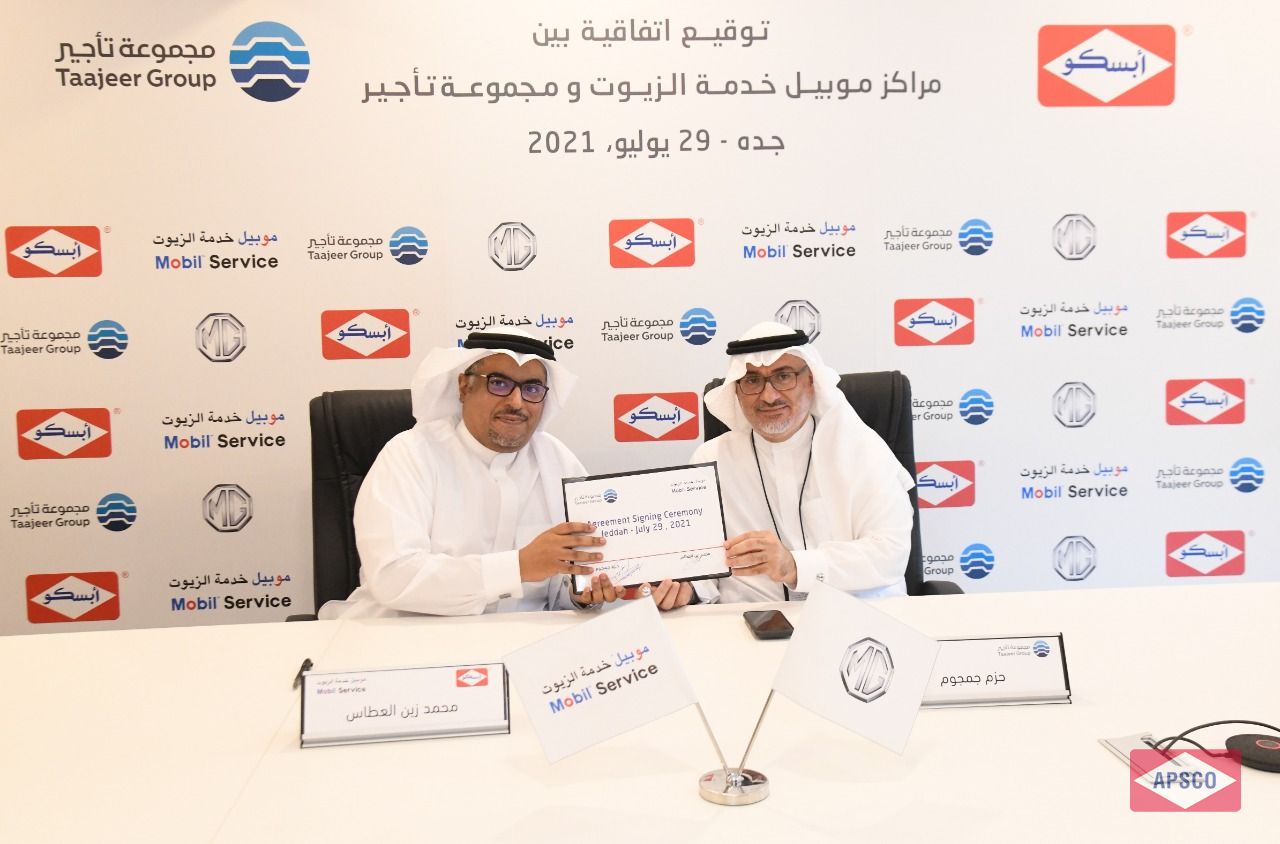 Taajeer Group and APSCO Team Up
For the accreditation of "Mobil Service" centers
for quick maintenance of MG cars
Taajeer Group and APSCO Team Up
Jeddah, July 29, 2021: Taajeer Group, the exclusive dealer for MG cars in Saudi Arabia and the Arabian Petroleum Supply Company (APSCO), the owner of "Mobil Service" centers, celebrated the signing of a long-term strategic partnership contract to provide engine oil change services for MG cars at "Mobil Service" centers Kingdome wide. Under the said agreement, "Mobil Centers" become the approved centers to provide quick maintenance services for MG cars.
The strategic partnership between the two parties was announced at the official ceremony held at the headquarters of Taajeer Group in the presence of Engineer Hazm Jamjoom, COO of the Automotive Sector of Taajeer Group, and Mr. Mohammad Zain Alattas, General Manager of the Retail Sector at the Arabian Petroleum Supply Company (APSCO), along with the participation of senior executives and after-sales service managers for the two companies. Noting that the partnership contract was preceded by a review of the new relationship and its future goals.
On this occasion, Engineer Hazm Jamjoom stressed the importance of the partnership to all parties in order to provide the highest services to MG customers and owners in the Kingdom, and said: "This partnership will contribute to supporting our ongoing efforts in maintaining the highest standards of customer satisfaction for after-sales services, and we will work together with our partners at "APSCO" to develop work in quick maintenance and after-sales services; to ensure the provision of our approved high-quality service.
Meanwhile, Mohammed Zain Alattas confirmed that APSCO, through its "Mobil Service" centers, seeks to expand its relations with its partners in the Kingdom, including Taajeer Group, which is considered one of the most important and newest active car dealers in the Kingdom, and underscored that "Mobil Service" centers provide high technologies, distinctive and fast services, this is in addition to providing quick maintenance services for owners of MG cars. He added:" We have a network of "Mobil Service" centers spread throughout the Kingdom to raise the level of interest in our customers and to provide services that they deserve. We have future plans to expand these centers to reach the largest segment of customers and owners of cars in all regions of the Kingdom."
Noting that "Mobil Service" centers network more than 37 service centers distributed throughout the Kingdom, and the number of the quality services provided increased to more than 15 services under one roof so as to be more comprehensive.
MG brand is witnessing constant growth in the Middle East region in general, and in the Kingdom in particular, confirmed by the sales figures announced by Taajeer Group within the Kingdom's markets during the first half of 2021, where it achieved a growth of 88%, compared to its sales for the same period in 2020.