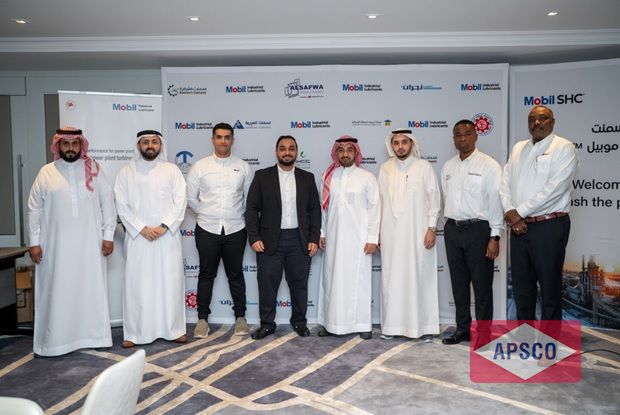 APSCO LAUNCHES (MOBIL INDUSTRIAL LUBRICANTS SEMINAR) TO SUPPORT CEMENT COMPANIES IN SAUDI ARABIA
In coordination with ExxonMobil, the Arabian Petroleum Supply Company (APSCO), the strategic partner of ExxonMobil in the Kingdom of Saudi Arabia and the distributer of Mobil products, engine oils, and industrial lubricants, held a seminar about industrial lubricants for the Saudi Cement Companies.
The seminar addressed the latest developments related to the benefits of Mobil oils, as well as success stories achieved as a result of using Mobil oils. The seminar also addressed Exxon Mobil's best practice across this field, critical points, and Mobil products solutions related to cement companies.
During the seminar, valuable discussions took place and important questions were asked about Mobil DTE products and its multiple benefits, as well as Mobilgear 600 and Mobilgard XP products. Such products could avoid unplanned equipment failure and outages, thus reducing expensive costs that may reach millions of dollars. Furthermore, discussions covered Mobil lubricant's role towards equipment protection during operation process.
The seminar included a demonstration of the technical services provided by APSCO to its customers along with product solutions such as analysis of used oil and periodic technical training, which aim to improve customer experience.
It is worth noting that APSCO is keen to improve the level of services it provides to customers and conducting frequent workshops and seminars for the customers in cooperation with ExxonMobil to increase the awareness of clints in taking care of their industrial equipment, knowing the importance of used oils, as well as informing them of the latest technologies used in this field to enhance the sustainable relationship with customers.